OUR 5TH RECORD IS JUST ABOUT TO BE RELEASED – THIS TIME, WE'RE TEAMING UP WITH ZURICH BASED HULA HONEYS! PREORDER IS UP ON BANDCAMP!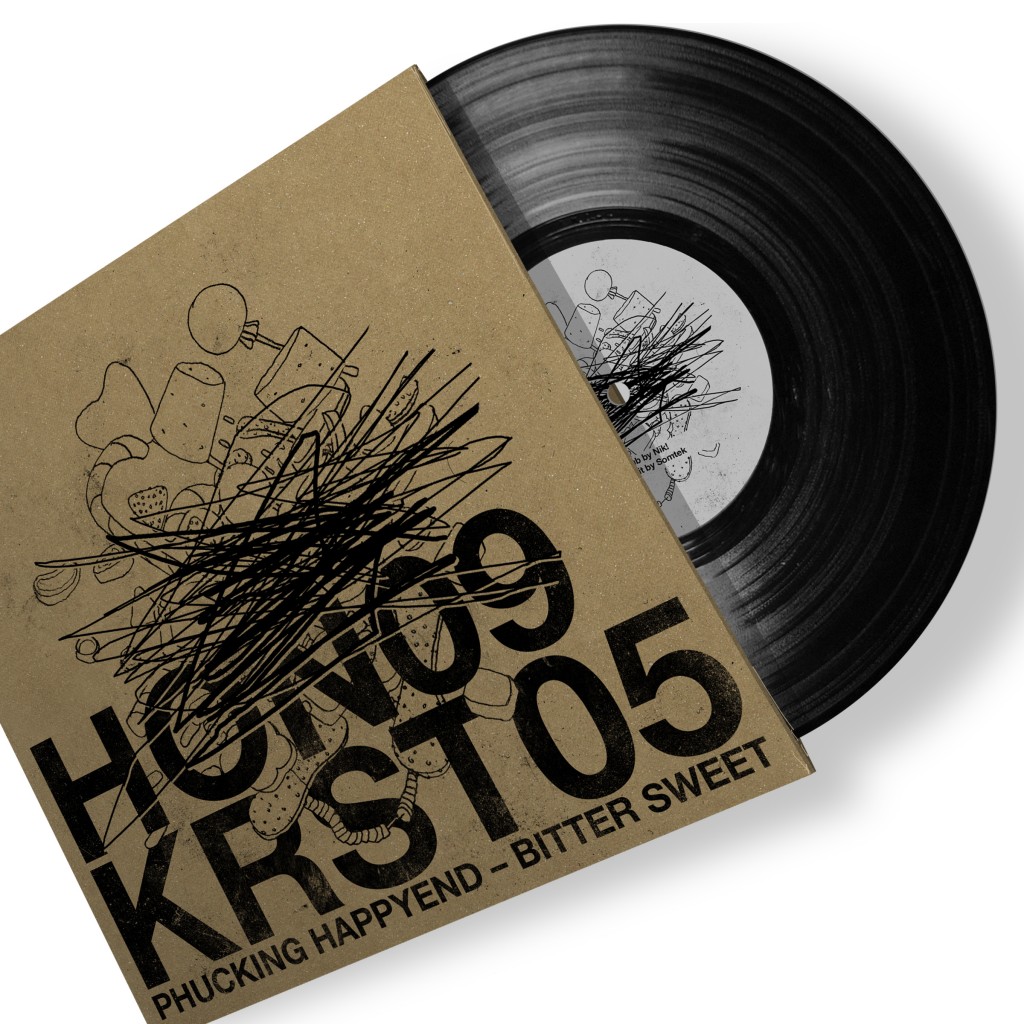 "Heavy Weight Bass Music" made in Switzerland: The two long-time companion labels Hula Honeys and Korsett Kollektiv join forces to present the Bitter Sweet Remixes, outlining current Bass Music between Wonky, Footwork, Dubstep and Rave.
With the original track Bitter Sweet, Phucking Happyend sets up the prototype of a floor killing track: walls of synth-sounds, piling up arpeggiator figures and a stepping beat aim at the floor from the first moment on – a key track in any Wonky, Abstract Hip Hop or Rave-Set.
The remixers focus on other elements: Red Bull Music Academy 2011 participant Kackmusikk sends the percussion back to the 80ies in his "Kackmusikk Changes Everything Remix" – the stabs, thundering snares and sweet vocals, work the woofers in the best Footwork manner.
On the flip, Nik! focusses on the offbeat, the organ stabs and the bleeps: his "Candy Dub" adds an acid bass line to the original and rolls out at smooth 132BPM.
Somtek caters for the pressure from way down: his "Phaser Edit" rolls and rattles over a bed of distorted kicks, while the arpeggiator sounds fly through the room and connect Dubstep patterns with Glitch sounds.
Footwork, Wonky, Dubstep, Rave: these tracks are a hommage to the bass-oriented dance floors around the globe and they prove the quality of an emerging generation of producers who develop current musical styles further with independant tracks further.
The Bitter Sweet Remixes were mastered by Bob Macciochi @ Subvert Central and will be released on Oct. 25th on limited Vinyl as well as digitally via Bandcamp, Beatport, iTunes, etc.
The Bitter Sweet Remixes are distributed by Godbrain Distribution.
_______________________________________________________________________________________
Phucking Happyend – Bitter Sweet EP
A1: Bitter Sweet (Original)
A2: Bitter Sweet (Kackmusikk Changes Everything Remix)
B1: Bitter Sweet (Candy Dub by Nik!)
B2: Bitter Sweet (Phaser Edit by Somtek)
_______________________________________________________________________________________
Buy on BANDCAMP