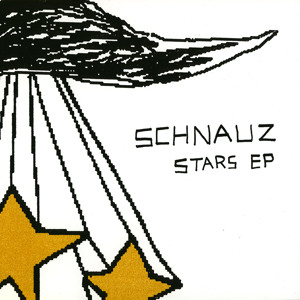 vinyl edition: A: Neon / B: Machine
digital edition: 1: Neon / 2: Machine / 3: Skit / 4: DreamBit / 5: WhutWhut
the 7" vinyl edition includes a dl-code to the full release!

Written & Produced by: Schnauz
Released by: Hula Honeys
Release/catalogue number: hon04
Release date: Jul 23, 2011
Previews:
The Stars EP is a message from the outer 8-bit boundaries of the hulaverse. It comes towards you in a proper Chiptune Rave manner: Dance!
Lucerne, Switzerland, based producer, dj and sound designer Daniel Sommer aka Somtek or Schnauz has built himself a reputation as an uncompromising master of the dancefloors somewhere between jungle, breakcore, rave and dubstep.
With the Stars EP, he demonstrates what this means from a glossy, shiny and bleepy point of view:
Neon opens up as a bouncy jungle stepper with classic chiptune sounds. Only shortly after, you'll find youself raving to an arena slammer. Machine reduces the tempo to the groove of a deep oldschool house mover with a cut-up drum break twist.
The first digital only track, Skit, is a one shot recording of a live studio session. It takes you way back the your jump'n'run mode. DreamBit comes in 3D and 140bpm. With a light halftime groove, this IDMesque track brings sunshine into the dark. Finally, WhutWhut takes another shot at the hi-speed realm: once more, cut up breaks fill the space between bleeping old school synth sounds, giving way to a glimpse of a timeless moment, only to take right back off towards the sky.
this is hon04.
Free Promomix: